Prescription sunglasses for mountain biking. Mountain biking is great fun and mountain bikes get to be used what they were made for.
I remember when I first went mountain biking in the lake district years ago. We took a semi-challenging route so as not to appear completely novice like in the group.
That was a gruelling few hours and we got back barely able to walk and covered in mud. I was wearing my glasses and kept stopping because of stuff going in my eyes.
We had the gear to protect ourselves from the mud on our clothes but hadn't thought of protection for the eyes!! I didn't even know that anything for that purpose existed.
Forward to the present and thankfully there are options available for those of us who need glasses and want full wrap sunglasses.
Dunlop Prescription Sunglasses for Better Mountain Biking
Dunlop make an excellent pair of sports sunglasses that come with polarised lenses, a prescription insert that clips on the back and even a wind/dirt guard.
The sides of the frame are adjustable for different side angles (called the pantoscopic angle) and the sides even detach to allow the attachment of a strap, giving further stability when riding.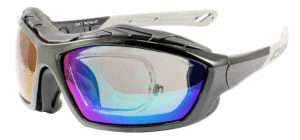 The package cost including your prescription in standard index lenses is £99.95 which is great value when you consider all the options it gives you.
If that sound like its doing too much for you, you opt for the Salice sports frames. These are wrap around frames with interchangeable lenses between clear and mirrored tint.
They also include prescription inserts. The sides are fixed and they come in two colours. White with blue mirror lens or black with silver mirror lenses.
This package including your prescription in standard index lenses is £79.95, again a great value package.
So if you are looking for prescription sunglasses for mountain biking adventures, come in and try out these sports eyewear. Contact us and we can call you back to arrange an appointment.